The bestselling 2013 book Our Story, recording Rao's illustrations about his marriage. [CRI English]
In the spirit of the recent Valentine's Day celebrations, many media have been recalling the story of a romantic 95-year-old Chinese widower who, several years ago, produced unique hand-drawn illustrations in memory of his wife shortly after she passed away.
Rao Pingru made over 300 illustrations from 2008-2012, depicting the days he and his partner Mao Meitang spent together during their marriage of nearly 60 years.
The pictures were compiled into an 18-album book called Our Story, which later hit the lifestyle genre list as one of the nation's bestsellers in 2013.
Rao first encountered his true-love-to-be in 1933 in his hometown when he was 11. At the time, the 8-year-old girl and her family paid a visit to Rao's family in the city of Nancheng, southeast China's Jiangxi Province.
Upon graduating from China's prestigious Huangpu Military Academy 13 years later, the 26-year-old Rao, who was an obedient son to his parents, agreed to get engaged with the young woman after they went on a blind date organized by elderly family members.
The couple organized their wedding ceremony in 1948 at the city hall in Jiangxi, which was the tallest building in the province.
"During our marriage, the happiness always outweighed the quarrels, which only seldom occurred," recalled the husband.
"We moved to Shanghai to live. In particular, my wife and I went dancing every weekend in the corporation-organized parties in the mid-50s," he said.
"Later, in 1958, I was assigned to do labor work in remote areas. My wife kept supporting me wholeheartedly throughout our tough days," the husband went on.
"To support the entire family, Mao went to a construction company in Shanghai and worked as a manual laborer by carrying bags of cement every day. Each bag weighed about 15 kilograms," he said.
In her last moment in 2008, the wife still reminded the husband of staying healthy.
Rao Pingru (R) and Mao Meitang during their youth [CRI English]
Rao's illustration of the couple's marriage certificate after the original was destroyed. [CRI English]
An illustration shows Rao giving a toy to Mao during the girl's first visit to the family home in Jiangxi. [CRI English]
An illustration shows Rao's later impression of his fiancé in her 20s, putting on lipstick by the window. [CRI English]
When the two began dating, Rao sang a popular English song Oh Rosemary I love You to Mao, as he was too shy to say 'I love you' directly. [CRI English]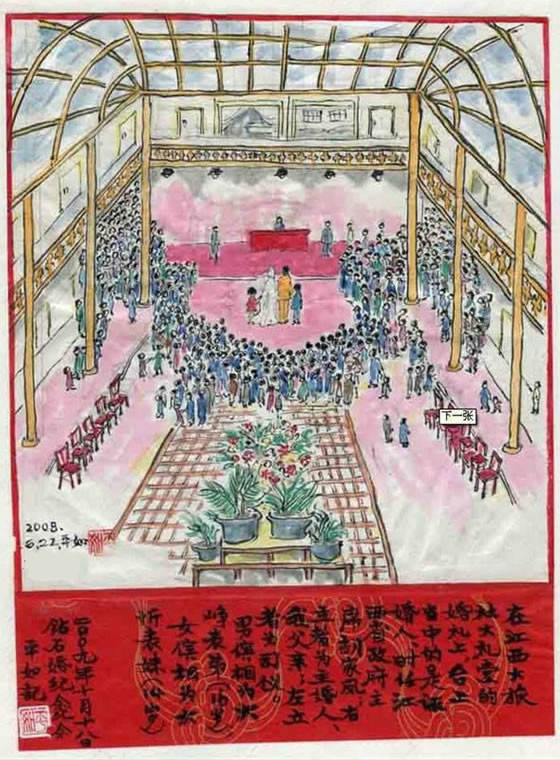 Rao and Mao held their wedding ceremony at the grand hall in Jiangxi in 1948. [CRI English]
Rao records one of his rare quarrels with the wife. [CRI English]
On a summer morning, the couple shell beans together at home. [CRI English]
The wife (R1) carries a bag of cement on the construction site for a meager salary. [CRI English]
An illustration of their first family photo shot in November 1979. [Women Voice]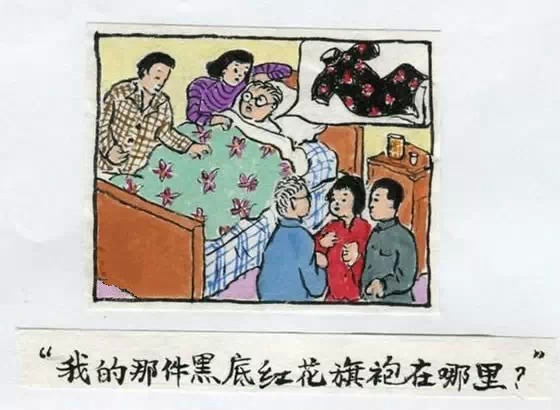 The wife thinks of a black-and-red outfit that she actually had never owned. The husband talks with relatives about making a new one. [CRI English]
Rao, 87 at the time, cycles for 40 minutes to get some dessert for Mao as she asked for them. [CRI English]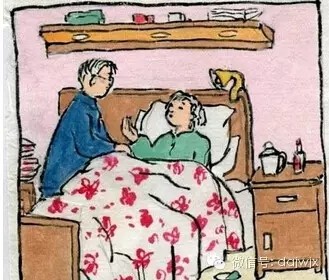 The wife reminds the husband to stay healthy. [Women Voice]
In the morning of March 19, 2008, Rao saw one teardrop running off his wife's face. She passed away in the afternoon. [CRI English]
(Source: Women Voice/Translated and edited by Women of China)
http://www.womenofchina.cn/womenofchina/html1/news/newsmakers/1702/3054-1.htm