The third plenary meeting of the fifth session of the 12th NPC was held at the Great Hall of the People on March 12 in Beijing. [Women of China/Fan Wenjun]
China's top court and procuratorate recently issued their 2016 work reports, in which senior officials summarized the country's latest legal progress on the protection of women and children's rights.
The reports were delivered at the third plenary meeting of the fifth session of the 12th National People's Congress (NPC) on March 12, at the Great Hall of the People in Beijing.
Chief Justice Zhou Qiang from the Supreme People's Court (SPC) said that, in total, people's courts at all levels dealt with 5,335 cases of illicit trafficking and sexual harassment against women and children last year.
To promote the construction of safe campuses, 213 cases on school bullying were concluded and officials actively developed events to publicize laws and analyze related cases.
Procurator-General Cao Jianming from the Supreme People's Procuratorate (SPP) noted that numerous departments have punished criminals who infringed on minors' personal rights and interests by human trafficking and sexual harassment – prosecuting 16,078 people in total.
In particular, Cao highlighted an inter-province criminal case against a group of 26 offenders including Zhang Xianhui, who trafficked 27 infants and was prosecuted by Zhejiang People's Procuratorate in east China.
In addition, officials gave heavier punishments to adults' abetting students into crimes, and prosecuted 678 people last year, said Cao.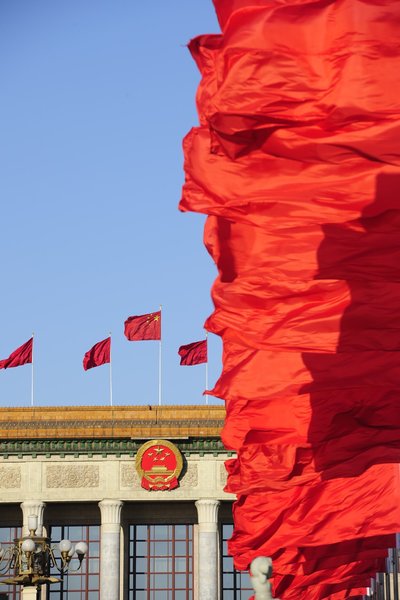 Red flags at Tiananmen Square on March 12. The third plenary meeting of the fifth session of the 12th National People's Congress opened in Beijing on Sunday. [Women of China/Fan Wenjun]
A female journalist reports in front of the Great Hall of the People before the third plenary meeting of the fifth session of the 12th NPC on March 12. [Women of China/Fan Wenjun]
The third plenary meeting of the fifth session of the 12th NPC opened at the Great Hall of the People on March 12 in Beijing. [Women of China/Fan Wenjun]
Members of the 12th National Committee of the Chinese People's Political Consultative Conference (CPPCC) attend the third plenary meeting of the fifth session of the 12th NPC on March 12 in Beijing. [Women of China/Fan Wenjun]
The third plenary meeting of the fifth session of the 12th NPC was held at the Great Hall of the People on March 12 in Beijing. [Women of China/Fan Wenjun]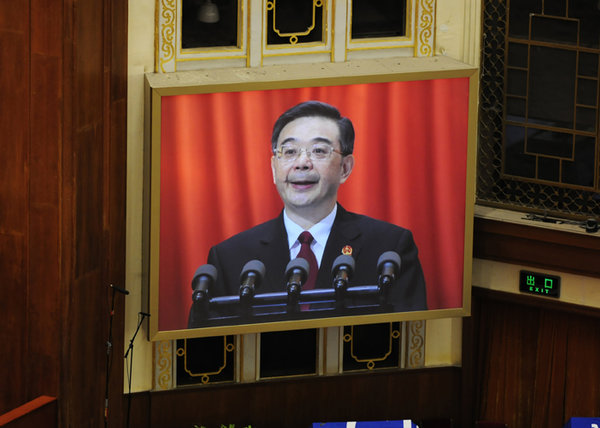 Chief Justice Zhou Qiang delivers a work report from the Supreme People's Court at the third plenary meeting of the fifth session of the 12th NPC on March 12 in Beijing. [Women of China/Fan Wenjun]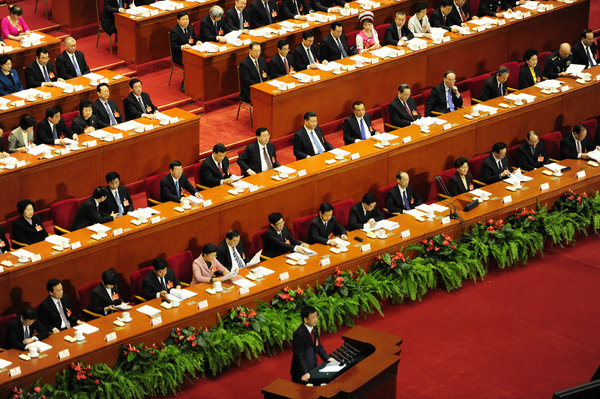 Communist Party of China (CPC) and State leaders Xi Jinping, Li Keqiang, Zhang Dejiang, Yu Zhengsheng, Liu Yunshan, Wang Qishan and Zhang Gaoli attend the third plenary meeting of the fifth session of the 12th NPC at the Great Hall of the People on March 12 in Beijing. [Women of China/Fan Wenjun]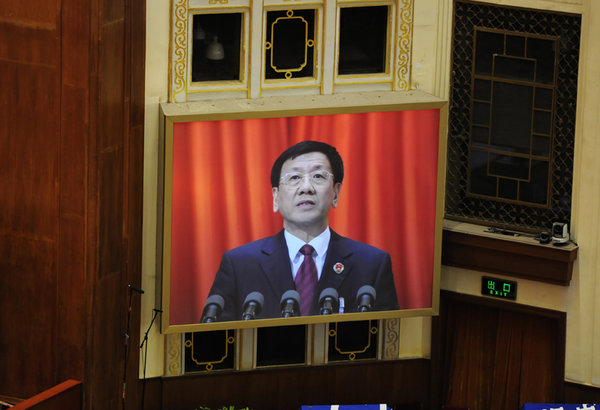 Procurator-General Cao Jianming delivers a work report of the Supreme People's Procuratorate (SPP) during the third plenary meeting of the fifth session of China's 12th NPC on March 12 in Beijing. [Women of China/Fan Wenjun]
Judicial officials attend the third plenary meeting of the fifth session of China's 12th NPC on March 12 in Beijing. [Women of China/Fan Wenjun]
http://www.womenofchina.cn/womenofchina/html1/special/2017npc/1703/2895-2.htm