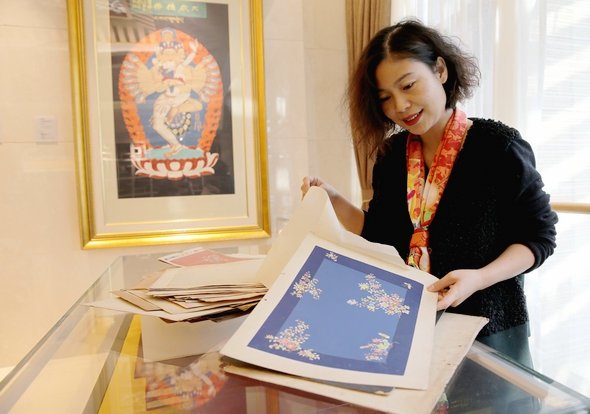 Fan Yanyan shows some of her designs inspired by the folk art and history of the Silk Road in her studio in Xi'an, northwest China's Shaanxi Province. [China Daily/Huo Yan]
Fan Yanyan is so intrigued by the Silk Road that she established her silk-scarf design studio in a Silk Road museum in Xi'an, Shaanxi province.
The museum's location in Northwest China was the largest market in the capital of the Tang Dynasty (618-907). It's celebrated as the traditional starting point of the Silk Road.
The fine-arts graduate believes many artistic treasures scattered along the ancient international trade route harbor "authentic" inspirations from humanity, religion and nature, rather than modern commercialism.
Unlike her classmates, Fan did not look for jobs after graduating from college in Xi'an in 2000. She went to Dunhuang, Gansu province, to create facsimiles of frescoes in the Mogao Grottoes for two years.
The Mogao Grottoes have more than 45,000 square meters of frescoes and 2,415 painted clay sculptures. It's the world's largest collection of historical Buddhist art, created over the period from the third to 13th centuries, a peak period of international trade and cultural exchanges between Central and South Asia and China.
"There were not many tourists back then. Dunhuang was a quiet and bleak town," the 38-year-old recalls.
"I felt as if I was talking with the ancient painters while making facsimiles of their works in the caves."
The two years of "lonely cultivation" deepened her understanding of art and history, and gave her inspiration, even though she was still uncertain of her future career.
Dunhuang's tourism boom after 2002 made her feel uncomfortable. So, she left for Beijing to work as a designer for a scarf import-export company.
"I appreciate that the job gave me a chance to paint what I learned in Dunhuang on scarves," she says.
She quit in 2008, eager for a less commercial opportunity and outlet for her talent. Before that, she got married and became a mother.
"Although I was in Beijing, my soul had never left those caves in Dunhuang," she says.
She spent a whole year at home in Beijing, resting and contemplating her future.
"My inspiration and passion exploded the next spring, and I knew what to do," Fan says.
Fan started her studio to paint on silk-the "best and irreplaceable material"-crystallizing ancient China's wisdom and beauty. She painted her memories of Dunhuang on silk for 40 days straight.
"It felt like a catharsis, just letting loose the depression and inspiration that had accumulated in my mind," Fan says.
Some of the paintings created in those 40 days are exhibited in her studio in Xi'an. She believes those, which she has titled Dream Dunhuang, are her best works.
Fan and her family returned to Xi'an in 2009, which she thinks is more suitable for her creation because of the city's historical connection with the Silk Road and the Tang Dynasty-a peak in China's ancient art and literature.
She found new inspiration in the old bronze ware, the Terracotta Warriors, stone sculptures and many other places of historic interest in the city, which was the capital for 13 dynasties over more than 2,000 years.
Her silk painting Twelve Chinese Zodiac Signs-a combination of Xi'an's folk art and history-was displayed at the Shanghai World Expo 2010. There, it caught the attention of Thomas Kong, chairman of the US-China Cultural Exchange and Development Association, a nongovernmental organization in Flushing, New York.
Kong flew to Xi'an to meet Fan, bought a dozen scarves she'd designed and took them to the United States.
Kong showed the scarves in an activity sponsored by the US Congress. The chairwoman of a women's association asked Kong to invite Fan to design a scarf for the 16th Global Women In Leadership Economic Forum in Dubai in November 2014, as a potential official gift of the event.
Fan finished the design in one month: Women of four races surround the goddess Artemis, with a bright blue background that Fan favors in her designs.
Fan says the bright blue color is a symbol of the Silk Road: Persian merchants brought to China many valuable ores, such as lapis lazuli, calaite and malachite, which were ground to make pigments to paint the frescoes and sculptures.
Their brilliant hues do not fade and pose a stark contrast with the surrounding earth-tone hue of the Gobi Desert.
"The symbolic blue means different things in the context of religion, arts and history," Fan says.
Commenting on Fan's dedication, Wu Mancong, chairwoman of the Xi'an Women Entrepreneurs Association, says: "Fan's commitment to art and her persevering workmanship let the ancient arts from Dunhuang enter modern people's lives.
"I hope more female entrepreneurs can make good use of their unique talents to make people's lives more artistic."
Zou Yingzi, an expert of Suzhou embroidery from Jiangsu province, says: "Fan's designs integrate traditional elements and modern styles. Her dedication and wisdom make that integration look natural."
Fan recently founded a Silk Road Experience Center in her studio, exhibiting artworks from the countries and regions along the ancient corridor.
"I hope I can draw all of these foreign cultural elements in a proper manner on silk. The combination of cultures and silk can help more people understand the essence of the ancient international trade route," she says.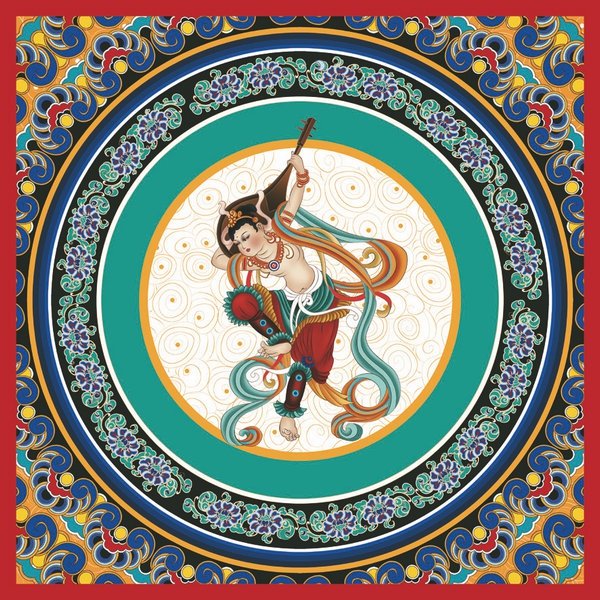 Fan Yanyan shows some of her designs inspired by the folk art and history of the Silk Road in her studio in Xi'an, northwest China's Shaanxi Province.[China Daily/Huo Yan]
(Source: China Daily)
http://www.womenofchina.cn/womenofchina/html1/people/artists/1703/3885-1.htm