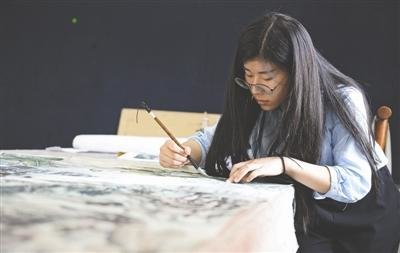 Tang Lisha works on her graduate work. [e.chengdu.cn]
Tang Lisha, a college student from southwest China's Chongqing Municipality, has raised nearly 20,000 yuan (U.S.$ 2905.29) in three years to successfully help three impoverished teenage students complete their studies at middle school.
Tang, 21, is a college student in her third year at Chengdu Normal University. Although the economic condition of her family is not good, she planed to financially assist poverty-stricken students, who perform soundly in their academic studies, when she graduated from a high school in Dazu District in Chongqing three years ago.
With the support of her former teachers, Tang eventually selected three candidate students at her alma mater.
Since then, Tang has taken up various part-time jobs, such as garbage collector and private tutor, to earn money when she is not busy with her academic studies. In addition to sending an amount of cash to three target students, she will buy nutritional products and clothes for them when she collects enough money.
However, she is very strict with her personal spending and seldom buys new clothes for herself.
Right now, Tang is preoccupied with preparations for the entrance examination for her further studies with a bachelor degree.
Tang disclosed that she is concerned about how to raise more money to help three teenage students complete their studies at high school, as it is not difficult for them to pass the upcoming entrance examination in this July.
(Source: e.chengdu.cn/Translated and edited by Women of China)
http://www.womenofchina.cn/womenofchina/html1/news/newsmakers/1705/2972-1.htm