Da Shihua takes her own blood pressure. [zjol.com.cn]
It is hard to understand why Da Shihua waited for more than half a century before officially becoming a member of the Communist Party of China (CPC) when she was 90 in 2016, whilst wholeheartedly serving the public with her medical expertise during the same period.
Da was born into a family in Nanjing, capital city of east China's Jiangsu Province, in 1926. She became a nurse after her graduation from a local nurse-training school.
Da was touched by the observance of strict discipline and the embodiment of mutual assistance from members of the CPC and soldiers of the People's Liberation Army (PLA) when they liberated Nanjing from the hands of the Kuomintang's military forces in April 1949. Back then, the aspiration to be a CPC member blossomed deeply in her heart.
Due to her father's historical background, however, Da had to wait for 64 years before being allowed to submit a membership application in December 2013. It took her only two hours to complete the writing, in which she poured out her decade-long longing toward the Party. Like many young candidates, she soundly completed all compulsory courses and wrote down several reports on her studies on time in the following three years.
Her dream eventually came true on December 18, 2016. On the day of her swearing-in ceremony, she made a firm pledge of her loyalty and dedication to the CPC and its pursuits.
"I realized that I must bear more responsibilities at that moment," Da said at the ceremony and pledged that she would better serve the public and bring more tangible benefits to them in the future.
As a matter of fact, Da had already fulfilled the duties of a CPC member and her pledge for more than half a century before she was officially accepted last December.
There is a pair of couplets which are hung on the wall in front of the door of Da's home and whose main idea is to leave convenience to others and to accept difficulties on his or her initiative. The couplets were recognized as her family doctrine when she got married to her husband in 1952 in Dalian, a coastal city in northeast China's Liaoning Province.
Da entrusted her elderly mother to take care of her daughter, who was only one-year-old, when she volunteered to follow her hospital on an eight-year expedition to provide rural people with medical services in 1958. Due to long-time separation, the little girl barely recognized her back then. Therefore, she felt very sorry for both her mom and daughter since she failed to stay with them. Nevertheless, she never felt regret about her choice.
Da and her husband moved to Hangzhou, capital city of east China's Zhejiang Province, when they retired in 1983. Since then, she has been closely engaged in utilizing her medical skills to help needy neighbors. The beneficiaries of her voluntary medical services range from pregnant women, newborns to the elderly, like herself, in these years.
Moreover, Da has successfully mobilized her daughter and son-in-law to work alongside her in the service of others right now.
Prior to the end of an interview on July 4, Da told reporters that her dream had been fulfilled and she hoped that more people would stick to their original commitments and continually serve the public in the future.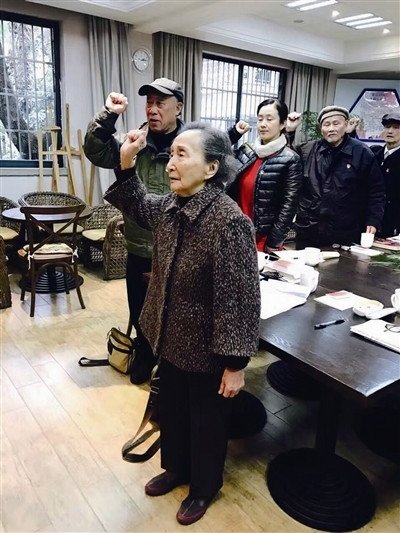 Da Shihua takes a pledge to be a CPC member in December 2016. [zjol.com.cn]
Family doctrine hung on the hall of Da Shihua's family [zjol.com.cn]
A diary kept by Da Shihua recording her neighbors' health data [zjol.com.cn]
Certificates and awards received by Da Shihua in the past few decades [zjol.com.cn]
(Source: zjol.com.cn/Translated and edited by Women of China)
http://www.womenofchina.cn/womenofchina/html1/people/others/1707/1866-1.htm