Wang Yanlan makes a bridal dress at her studio. Wang has added some ethnic elements to the dress. [Xinhua]
Wang Yanlan, from Hohhot, capital of north China's Inner Mongolia Autonomous Region, is a fashion designer who runs her own studio.
Currently, Wang is trying to fuse elements of Mongolian costume with the style of modern wedding dresses.
"Girls and young women from the Mongolian ethnic group have a preference for ethnic costumes that combine traditional and modern elements. Such clothing is becoming more acceptable to people," she said.
In Hohhot, there are many more designers just like Wang, and Mongolian costumes with a strong modern style are increasingly turning up on local streets.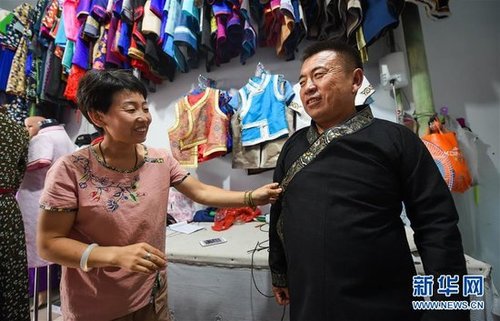 Hong Ge (L), owner of a clothes shop in Hohhot, introduces a Mongolian costume that she has designed with added modern elements. [Xinhua]
Hong Ge makes a Mongolian costume in her shop. [Xinhua]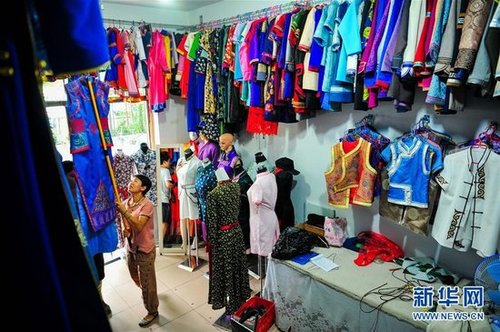 Hong Ge sorts through the costumes in her shop. [Xinhua]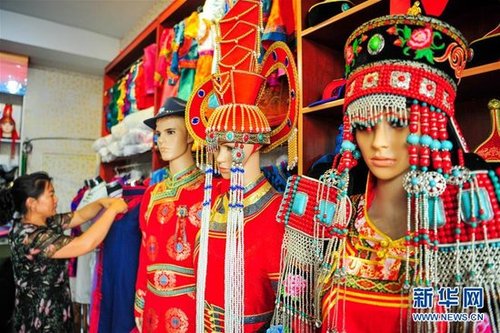 Mongolian costumes in a shop in Hohhot [Xinhua]
(Source: Xinhua/Translated and edited by Women of China)
http://www.womenofchina.cn/womenofchina/html1/special/minority/1708/2196-1.htm