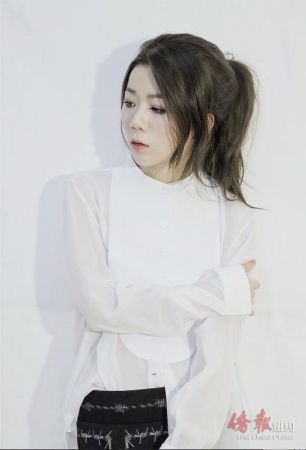 Gemma Hoi [The China Press]
A young, up-and-coming Chinese-American fashion designer recently won praise at New York Fashion and Lifestyle Festival (NYFLF) for her attention-grabbing collection, Metamorphosis.
Gemma Hoi's works were later featured in the influential fashion magazine Women's Wear Daily, and were displayed in the windows of Bergdorf Goodman, one of the biggest luxury shopping malls in the world.
Gemma was born in Macao, south China. She said her father who specialized in men's fashion chatted with a guest in his studio while she drew a picture beside them when she was seven. After finishing talking with her father, the guest came over to see her drawing and said to her parent, "Your daughter will become a designer in future," Gemma recalls.
Some years later, Gemma proved that guest right, and she has become an outstanding fashion designer whose works have become renowned both at home and abroad.
Realizing Childhood Dream
After completing her primary education in Macao, she and her parents moved to Zhuhai, a city in south China's Guangdong Province.
Although she drew well, she has never been an excellent student in the eyes of her teachers, Gemma confessed.
After finishing junior high school, Gemma said she was quite eager to study in Shanghai. When her parents were on a business trip one day, she flew to Shanghai alone and attended a high school there.
When she found out that Design East, a design company in Macao was recruiting fashion designers, she immediately sent her application. Unexpectedly, she received an interview notice soon after and entered the final interview after two rounds of competition.
She was asked to make a drawing in accordance with a theme required by the company. It took her around three hours to finish the drawing. "After seeing my work, the company's staff members directly told me that I was recruited."
Hence, she became the youngest fashion designer in Design East at the age of 18.
Being an Exception
"At that time, I thought I was a fashion designer." When she found her talent can not be enough to support her dream after working for two years, Gemma stated she was too naive to think so. Therefore, she made a determination to improve herself.
Through careful consideration, Gemma chose to go to the U.S. to further her study. As her English level was not high, she decided to apply for New York Fashion Institute (FIT).
Due to the encouragement of her English tutor, she sent her works to FIT and Parsons School of Design (PSD), both world-famous design teaching institutions, respectively.
In consequence, she received letters of acceptance from both schools in a short period of time. "FIT said it would like to give an extension of my admission application as long as I can fill in a TOEFL score. While PSD immediately said it would like to make an exception of me to be a student of it," Gemma explained.
When receiving the letters of admission, Gemma said she could not believe that it was true and asked her teachers to help confirm it again and again.
The night before she left home, her father suddenly said to her, "Do not board the plane tomorrow." Her father explained that he was worried she would be unable manage her life well.
As a design enthusiast, Gemma did not listen to her father's words. The next day, she appeared at the airport on time, with no-one seeing her off.
Crazy College Life
With a letter of acceptance and two suitcases, she arrived in New York in 2012.
After learning English language for two semesters, she formally entered PSD and began studying fashion design.
To ensure the quality of students' work, the PSD requires its students to begin their internship at the third year of college. But, Gemma was an exception among them.
When she was at the second semester of freshman year, she was recruited by Isaac Mizrahi, a local fashion brand, to begin her internship.
At that time, she began her internship at 9 a.m. in the morning and had classes from 4 p.m. to 10 p.m.. Then she did homework from 11 p.m. till midnight. She has not been home in the first three years since she came to America.
During summer holidays, her classmates either went out to enjoy their time or returned home to reunite with their family members. But, Gemma chose to spend her time learning sewing by herself and find more internship opportunities, accumulating work experience.
Her hard work paid off. When she was a sophomore, she stood out among other students for her three clothing designs were chosen in the school's four competitions. From then on, some companies started purchasing her works in advance.
Persistence and Efforts
Looking back over the past few years, Gemma maintained she has always believed that persistence is more valuable than efforts. "It is hard to keep one thing, especially when you do not know if your works will be favored and accepted," she explained.
Gemma confessed she was once discouraged and felt down in those days when she studied in NY. In 2015, she won top three at the school's competition. When her classmates congratulated her, she went back to her dormitory and cried sadly as no one could understand how many efforts she has made in designing.
All efforts are worthwhile. The tailoring method created by her has been greatly welcomed by designers from America and China as it not only saves materials but also is good for environmental protection.
First Fashion Show at World Trade Organization
Gemma's works were first displayed at NYFLF on June 8, which took her around one year to conceive and design.
To turn her concept into fashionable products, she spent half a year researching the evolution of a butterfly while making lots of notes.
Aside from this, she particularly came back to China to select fabrics in 2016. With her constant improvements, she finally presented the possibility of the integration of art and clothing.
It took her around a month to sew some 600 crystal beads on the set of fashion clothes.
Her works were widely praised by Marie Genevieve Cyr and Fiona Dieffenbacher, top managers of PSD; Emily Lloyd, producer of VideoFashion; and, Tracey M Ferguson, chief editor of EBONY magazine as well as other attendees at the NYFLF.
Setting up a Workshop
In 2016, she registered a fashion brand with her name, which is focused on women's casual wear.
"I don't want to design clothes just for rich people. Fashion belongs to everybody. I hope what I have accumulated abroad, plus my talent, can help the large number of women get desirable clothes."
As she has a special feeling for Shanghai where she attended high school, she established her workshop there.
She hopes to take her works to attend NY Fashion Week in the future. "After many years of accumulation and polishing, I will tell the international fashion market more confidently: I am a Chinese fashion designer!"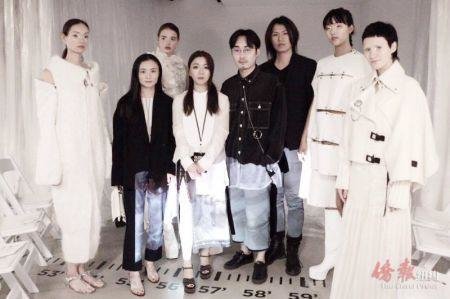 Gemma Hoi (L4) and models [The China Press]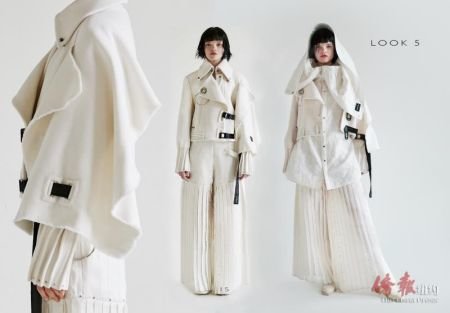 Clothes designed by Gemma Hoi [The China Press]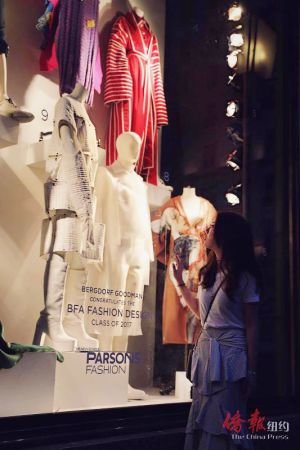 Gemma Hoi's workds are displayed in the windows of Bergdorf Goodman, one of the biggest luxury shopping malls in the world.[The China Press]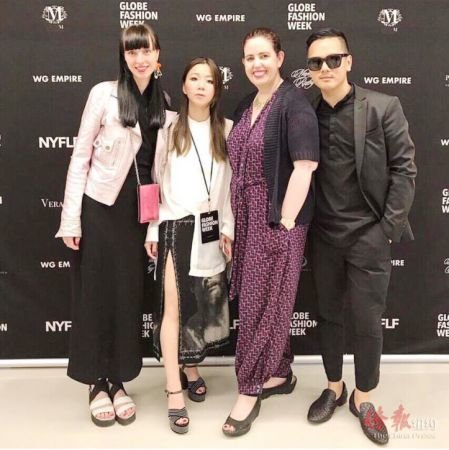 Gemma Hoi and attendees at the New York Fashion and Lifestyle Festival [The China Press]
(Source: chinaqw.com/Translated and edited by Women of China)