Yu Genhua and her mother-in-law Huang Fengjiao [Xinhua/Wan Xiang]
A 74-year-old woman from a rural village near Shanggao County in east China's Jiangxi Province has won lots of praise from local people for her dedication to caring for her paralyzed centenarian mother-in-law alone for the last few years.
When she was 18, Yu Genhua married her husband Luo Jianzhong. In the following years, some unexpected changes took place in her family. In 1983, her father-in-law became paralyzed and in 2010 her husband died from drowning when he worked elsewhere.
Over the years, Yu and her mother-in-law, Huang Fengjiao, have built a close and harmonious relationship and they have made great efforts to support the impoverished family.
However, Huang became paralyzed in 2014 and she was unable to take care of herself. Yu said, "I cannot let my mother-in-law lay paralyzed in bed. As long as I can carry her, I will try my best to take her from the bedroom to the hall. If I cannot carry her, we will go to a nursing home."
As Huang was always neat in her youth, she still keeps the habit now. The first thing Yu does when she gets up every morning is to help the centenarian wipe her face with warm water and comb her hair.
Sometimes, Huang suffers incontinence and Yu has always patiently helped her stay clean.
After learning Yu's family's difficulty, the local government arranged for her to work as a street cleaner with a regular monthly income. Yu is quite responsible for her work and she has been named an Excellent Street Cleaner by the environment protection department in the county.
Thanks to her thoughtful care and devotion to her mother-in-law, Yu has been commonly praised as "a good daughter-in-law that is hard to be found" by villagers.
Yu Genhua (R) helps Huang comb her hair. [Xinhua/Wan Xiang]
Yu Genhua helps Huang comb her hair. [Xinhua/Wan Xiang]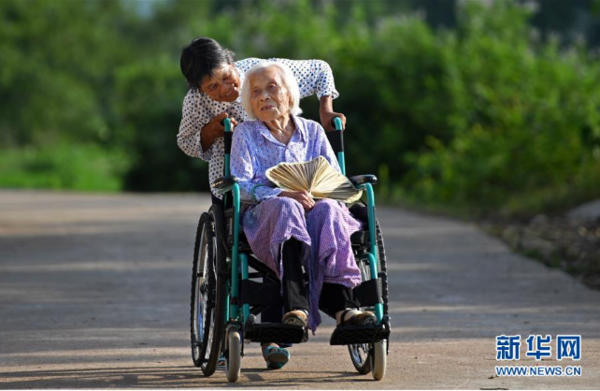 Yu Genhua chats with Huang. [Xinhua/Wan Xiang]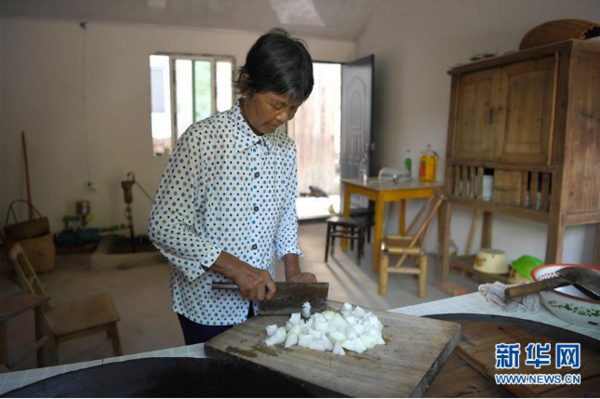 Yu Genhua cooks a meal for Huang. [Xinhua/Wan Xiang]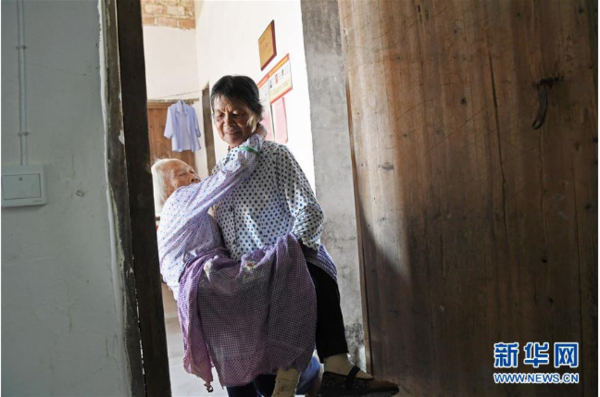 Yu Genhua carries Huang from the bedroom to the hall. [Xinhua/Wan Xiang]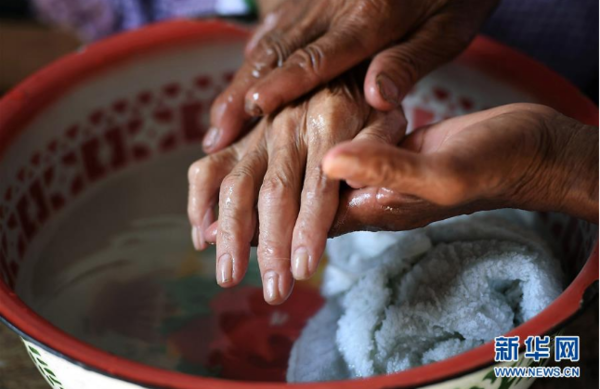 Yu Genhua helps Huang wash her hands with warm water. [Xinhua/Wan Xiang]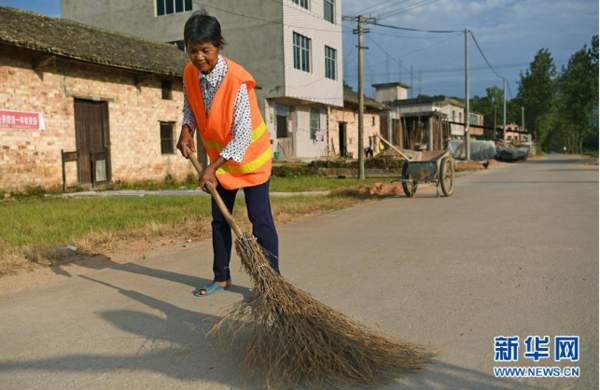 Yu Genhua sweeps the streets of the village. [Xinhua/Wan Xiang]
(Source: Xinhua/Translated and edited by Women of China)
http://www.womenofchina.cn/womenofchina/html1/news/newsmakers/1709/851-1.htm