Zhang Jianmin (R), deputy secretary-general of the CWDF ,receives a donation from Zhang Tianming (L), president of Shanxinhui, during the launch. [Women of China/Fan Wenjun]
The China Women's Development Foundation (CWDF) held a launch ceremony for a charity fund on January 9 in Beijing to promote poverty relief across the nation.
During the ceremony, Zhang Tianming, president of Shanxinhui, a culture communication company based in south China's Shenzhen, presented a 10 million yuan (U.S.$ 1,443,709) donation to Zhang Jianmin, deputy secretary-general of the CWDF, to support the fund.
In addition, he received a certificate of honor from the female official in recognition of the contribution.
Li Caiyun, secretary-general assistant of the CWDF, explained: "The fund is a new initiative to deepen our role as a social organization in promoting targeted poverty relief."
By 2018, the fund is set to be used to build 10 culture museums in impoverished villages in the country's central and western provinces to promote family virtues and comprehensive values among rural residents, said a spokesperson.
The fund will also run 30 training activities for rural women and children to promote child safety, women's employment and entrepreneurship.
Furthermore, the initiative will set up three charity medical centers in major cites including Beijing, Shanghai and Shenzhen to help treat children with Mediterranean anemia from poverty-stricken areas in China.
Some 80 people including representatives from the organizers and the donor, along with media workers and other charitable individuals, attended the event.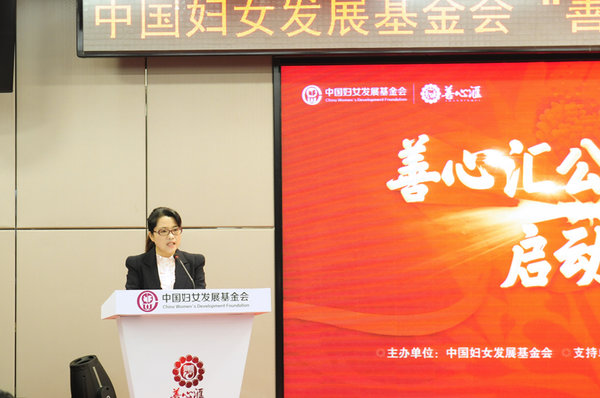 Li Caiyun, assistant secretary-general of the CWDF, speaks at the ceremony. [Women of China/Fan Wenjun]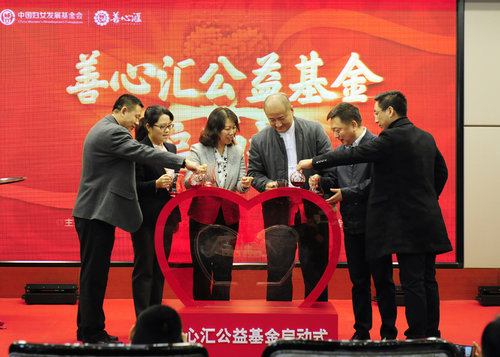 Officials launch the fund. [Women of China/Fan Wenjun]
A hostess speaks during the ceremony. [Women of China/Fan Wenjun]
(Women of China)
http://www.womenofchina.cn/womenofchina/html1/news/charity/1701/1849-1.htm