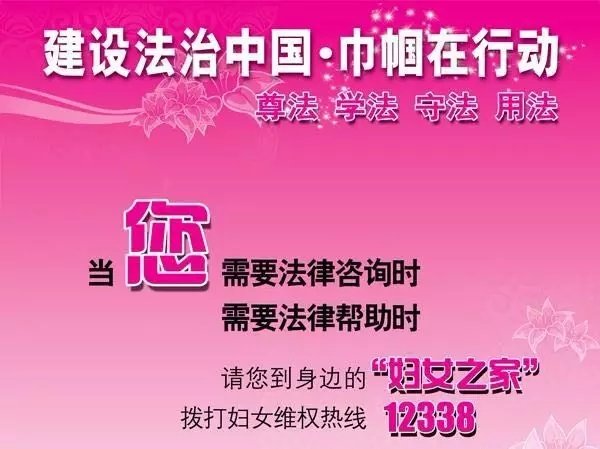 A promotional poster for the women's legal assistance service hotline 12338 [Women Voice]
In response to several recent high-profile sexual assault cases on social media, a spokesperson from the All-China Women's Federation (ACWF) has reiterated that the organization condemns any violation of any women's rights and interests under all circumstances.
"If a woman is offended, it constitutes a crime no matter whether the incident happens in the workplace or in a public area," commented the official.
Speaking from the ACWF's Department for Women's Rights and Interests, the spokesperson said: "Meanwhile, those survivors must bravely appeal to the law in safeguarding their own legal rights."
"A woman's rights protection service is available from women's federations at various levels across the country, including its hotline number 12338. Disadvantaged women can also turn to the federation for legal assistance," added the official.
"We appreciate police investigating cases, and employers issuing efficient measures prohibiting any harassment against women in the workplace. Sexual harassment will come to an end only if the social consensus is reached," the official stated.
Laws and Actions
Sexual harassment is prohibited in the country's Law Protecting Women's Rights and Interests.
This legislation stipulates that, in the case of wrongdoing, women survivors should appeal to their employers or relevant authorities.
Such bodies include the Public Security Authority, which is legally obliged to deal with violations of the nation's Security Administration Action. Women are also advised to appeal to the People's Court in the case of filing civil lawsuits.
(Source: Women Voice/Translated and edited by Women of China)
http://www.womenofchina.cn/womenofchina/html1/features/rights/1701/1801-1.htm